PRODUCTS > Progress Kemp > Kemp Web Application Firewall (WAF)
Kemp Web Application Firewall (WAF) - Web Application Firewall Pack

---
"Secure application deployments with Kemp's web application firewall (WAF)"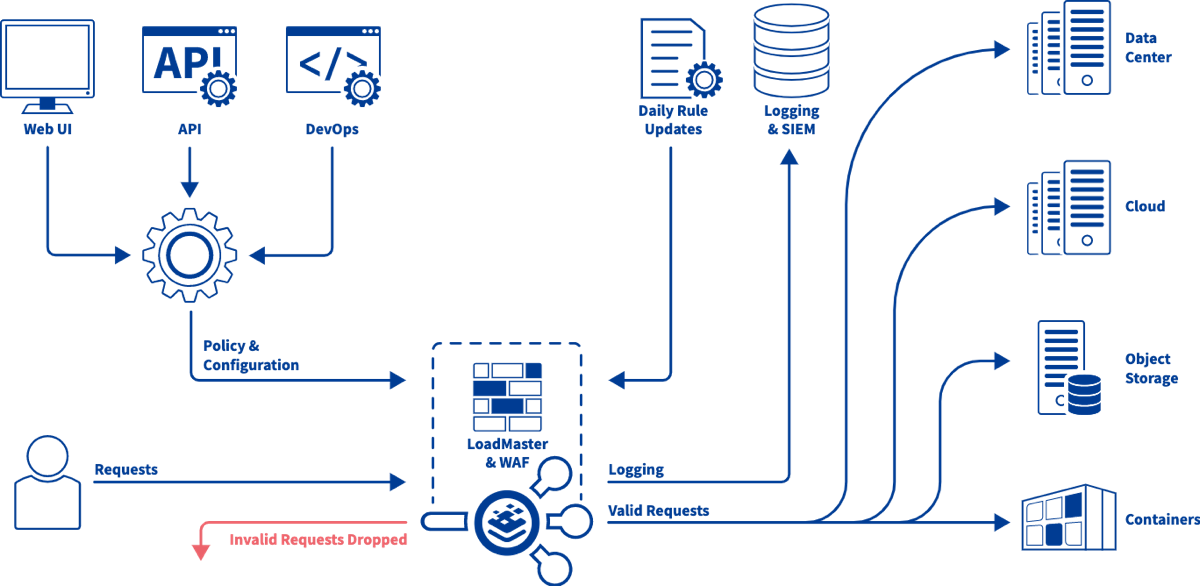 What is WAF with Progress Kemp LoadMaster?
LoadMaster supplies a WAF based on the industry-leading ModSecurity engine, backed by open-source rule sets. This web application firewall deploys on the award-winning LoadMaster load balancer. It is a fully supported component of the Progress software stack and backed by our industry-leading consulting team, security experts, and support staff who take all issues from initial contact to resolution without passing support tickets up a helpdesk hierarchy.

The WAF takes advantage of all the benefits of the available and flexible Progress licensing models. Deploying via LoadMaster instances with a metered license allows WAF placement that fully meets an organization's unique application delivery and security needs.
Key Benefits
Comprehensive Security Services
LoadMaster provides integrated security capabilities including Web Application Firewall protection (WAF), edge security, L7 IPS/IDS, DDos Mitigation, application publishing and authentication services as standard features on all platforms including select hardware appliances.
PCI-DSS Compliance
Protecting web applications is of critical importance for all organizations, especially those which process payments. In order to help customers with PCI-DSS requirements, AFP reduces the need for extensive code reviews with industry proven rule sets that are regularly and automatically updated.
Ease of Deployment and Use
With Kemp's focus on simplicity and shortening time to production for application deployment, LoadMaster with Application Firewall Pack (AFP) enables secure, scalable, and always-on workload delivery in one fully integrated, easy to use and deploy load balancing solution.
Key Threats Mitigated by the Kemp Application Firewall Pack
Cross Site Request Forgery

Data Loss Prevention (DLP)
Payment Card Industry Data Security Standards (PCI-DSS) Requirements Supported by KEMP's Web Application Firewall Pack
PCI-DSS Section 1.2: Deny traffic from untrusted networks and hosts

PCI-DSS Section

3.3: Mask account numbers when displayed

PCI-DSS Section

3.5: Protect encryption keys against disclosure and misuse

PCI-DSS Section

4.1: Use strong cryptography and security protocols

PCI-DSS Section

6.6: Audit and correct application code vulnerabilities or institute an application firewall
*Kemp AFP is available on LoadMaster across all form factors (cloud, virtual, bare metal and dedicated hardware). The AFP engine with custom rule capabilities is included without cost on all supported products.